Specialist security solution for post Coronavirus working
We all accept that post lockdown working environments will be different:
As a society, the UK has gone through a rapid change as a result of the  Coronavirus pandemic.  Measures imposed to control the spread of the virus have impacted us all at home and work.   Many challenges remain and it is clear that some measures to control the spread of the virus will be required for a considerable period of time.  In terms of the work environment, there are three key elements that we see as affecting our future work arrangements:
Social distancing will remain necessary and need to be monitored
Effective processes and monitoring will be required to ensure a safe environment for employees whilst maximising output.
The experience of working from home may precipitate a change to working practices with more companies favouring this approach to business.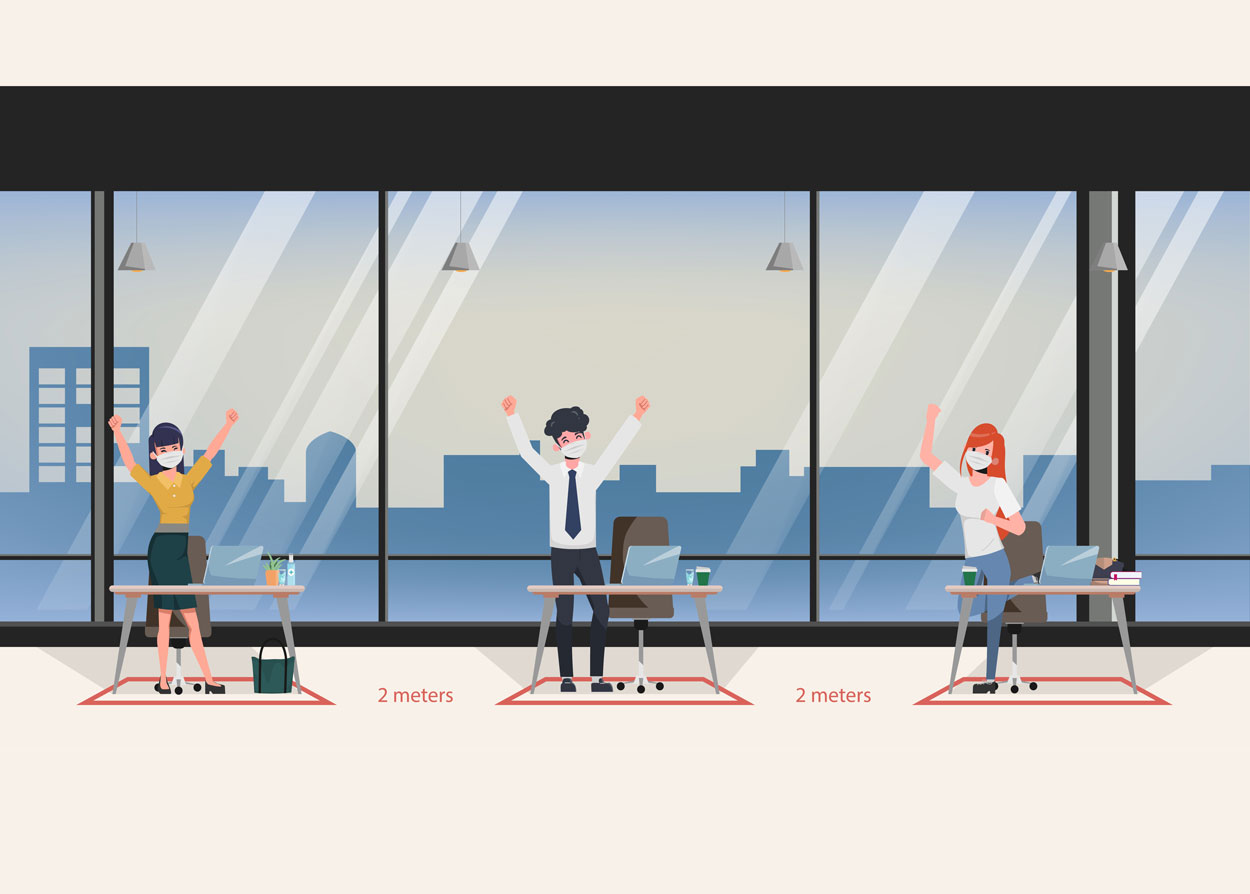 In an ideal world we will be going back to work whilst keeping our staff, suppliers and clients safe.
The question is how this will be achieved?  Guidelines for companies going back to work are likely to include the following:
Reduced occupancy in buildings

Larger gaps between desks/seats
Virtual Conferencing

Higher proportion of working from home
Keeping the Social Distance model whilst queuing for access control, coffee machines, toilets, canteen
Testing of staff and visitors
More cashless vending
Removal/replacement of biometric access control
To help you on your journey back to full productivity, we help to facilitate the following services;
Security Officers to perform temperature testing of all staff and visitors:
Handheld IR digital thermometer
Static sensor displaying data to reception
Use of sanitiser at entrance/exit/reception
Marking distances to maintain 2 metres and floor signage
Encouraging use of sanitiser
Rope and banner barriers to provide clear queuing procedures
Providing additional cleaning and deep cleaning
Providing Perspex screens
Staff abuse in retail and queue management – Waiting, weather, frustration, availability
Additional building patrols to prevent large groups gathering and encourage building users to maintain distancing in queues
Traffic marshalling
Portering services