For many kids, trick-or-treating is the best part of Halloween. The thrill of dressing up, staying up late and, of course, free sweets!!!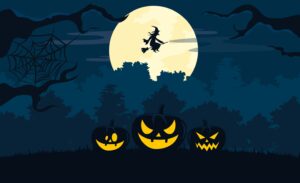 Here are some tips to help keep your kids and possessions safe this Halloween.
Be Prepared For Pranks or Would-be Thieves – Keep your car well-alarmed and remove all your valuables from it to deter anyone from trying to break in. If possible, keep some form of lighting or camera focused on it as well – you don't want to be cleaning egg or silly string off it come the morning.
Take kids out early – The best time to go trick-or-treating is between 5:00pm and 8:00pm, regardless of the age of your kids. Most people will be home during those hours and you're less likely to wake anyone up by knocking on their door.
Plan a Trick or Treat route and Stick to Well-lit Areas – make sure they've got a route plan laid out beforehand. Pick a few streets to target and make sure they don't wander.
Take to the Streets in a Group – Try and go out with them, especially if they're young, but, for those that no longer need supervision, make sure they're going around in groups of at least two or three, if not more.
Make Sure They're Warm and Visible – make sure they've got several layers on beneath their costumes and have a coat and something reflective to wear while they're walking around.
Only Knock Where it Looks Like You're Welcome – Even if you know who lives in the house, it's still worth making sure your kids check whether they're in the Halloween spirit or not.
Only Go to Houses Where You Know the Residents – If you know who's going to open the door, you'll feel a lot safer when your kids are out trick-or-treating.
Never Enter Someone's House – make sure you stay within earshot of what's going on and be prepared to step in should the situation become uncomfortable – there will be plenty more sweets on offer at other houses.
Reinforce Proper Road Crossing Practice – No matter how much fun your kids are having with their friends, you should make sure they know how to cross the road safely
Take a Torch – Even if you're sticking to well-lit areas, the street-lighting might not be the greatest. Your kids should take a torch and spare batteries with them and carry it face-down in whatever they're collecting sweets in.
Keep it Fun For Everyone – Some people might not be at home but will still leave their sweets in a bowl on the doorstep. Make sure your kids don't get greedy – others will want to visit this house as well and come away with some treats. If they go out alone, make sure they're aware not to play any pranks or be anti-social.